CoreChair
Canada
About company
CoreChair is an eCommerce business selling chairs for keeping good posture and preventing back pain while sitting. 

Services provided
Boost Your Brand!
Facebook is an ideal tool for leadgeneration but it's also the most effective way to increase your brand awareness worldwide!
Project details
Since CoreChair is an eCommerce project, Facebook advertising is ideal for this type of business.
The company has been using Facebook advertising for a long time, so we started analyzing existing advertising campaigns and their results. The construction of the advertising funnel is divided into several points:
We chose the main interests of the cold audience;

Built a plan for a multi-stage funnel of retargeting campaigns to show the entire story of chairs - why they are functional and helpful;

We drew up a plan to launch a dynamic retargeting campaign for Canada and the United States;

Based on the events tracked by the Facebook Pixel on the website - we created several LAL audiences and tested their effectiveness.
First, we started with a cold advertising campaign for users divided by interest and several retargeting campaigns for website visitors. We used various photo and video creatives for each of the advertising campaigns.
After the first month of campaigns, we received 6 purchases worth about 4,000 CAD with spending of 750 CAD. We saw a trend that most customers did not buy immediately from a cold campaign but got into retargeting and then made a purchase. Based on this fact, we decided to develop more retargeting campaigns and spread the story of chairs with cold traffic to the website - so interested in chairs users might reach a purchasing stage.
Next month, in addition to standard campaigns, we started promotional campaigns such as Black Friday. It only lasted a few days, and we only got 1 purchase for 40 CAD. Also, we transferred the budget from a cold advertising campaign to LAL campaigns to obtain the first results and analyze the effectiveness of an audience. Since we have a limited budget, we could not run cold and LAL campaigns simultaneously. As a result, the LAL audience did not perform as well as we planned, so we received 5 purchases worth about 4,000 CAD with a spend of 900 CAD.
The following month, we focused again on the cold interest advertising campaign and added dynamic retargeting to the product catalog from the website. Dynamic retargeting, at the moment, is unstable - some days it gives impressions, and some days it does not use the budget at all. We are optimizing this campaign all the time. Cold advertising that we relaunched this month with new interests gave us 3 direct and 9 purchases from curious users who were retargeted. This month we received 12 buys worth about CAD 7,000 with a spend of 900 CAD.
In total, that's 23 purchases worth about 14,000 CAD with 1,500 CAD spent.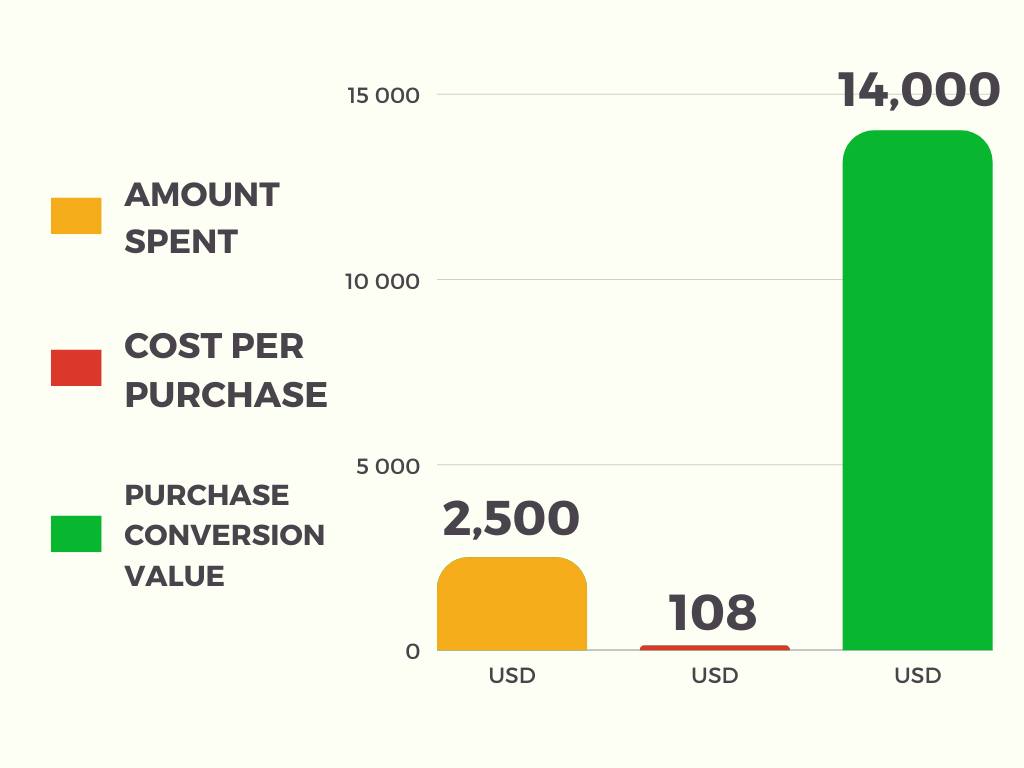 We will continue to optimize advertising campaigns for better results and expand advertising budgets to test new campaigns, new creatives, and texts in parallel with the work of already effective campaigns.