English 24/7
Ukraine
About company
English 24/7 is an English language school that has been operating on the education market since 2012. The peculiarity of their concept is that they abandoned the usual understanding of the school with desks and teachers.
Services provided
Be first, Be visible!
When your customers are looking for your products or services, do not be hard to find. Be visible with Google Ads!
Boost Your Brand!
Facebook is an ideal tool for leadgeneration but it's also the most effective way to increase your brand awareness worldwide!
Project details
Experience working with an educational institution
English 24/7 language school asked Webugol to conduct digital marketing analysis to launch advertising. We found potential Google and Facebook/Instagram markets that can be profitable for English 24/7.

First, we decided to launch advertising on Facebook / Instagram. Our expert searched for relevant interests for the cold funnel campaigns and created a commercial video.
The traffic on the site was not enough to immediately start retargeting ads and create deeper funnels, so the advertising was primarily aimed at website traffic.
We configured Facebook Pixel and installed it on the website with all conversional elements added for events tracking. Events on the site have been set up to track calls, visit specific pages and fill out forms
The first month after the launch advertising campaign brought about 5,000+ targeted website traffic. To launch Retargeting we launched a new video and choose the fill out Facebook form target action. Important: Facebook form included several questions to avoid SPAM.
Additionally, a Look-a-Like audience was created to reduce cost per conversion and find a better target audience similar to those who left filled the forms, and who clicked on phone numbers.
We received a lot of traffic to the site from the cold audiences, but the conversion rate wasn't high and not all events were tracked correctly. It was decided to switch the advertising campaign from traffic to the site to fill out the Lead form on Facebook. This paid off. In the first month of the Lead-form targeted advertising campaigns, we received about 100 potential leads who left their data. The average price for one Lead was $3.
The next month we got about 100 Lead again. Simultaneously, we launched Google Ads, which also showed good results. After adjusting CPC, we've shifted some of budget from Facebook/Instagram Ads to Google Ads.
The semantic core was collected for the exact services to guarantee the max conversion rate. Unique ad texts were written and divided into ad groups according to intention. 
Most conversions cannot be automatically tracked because of specific website Google forms and impossibility of calls tracking in Ukraine. Here are some results details: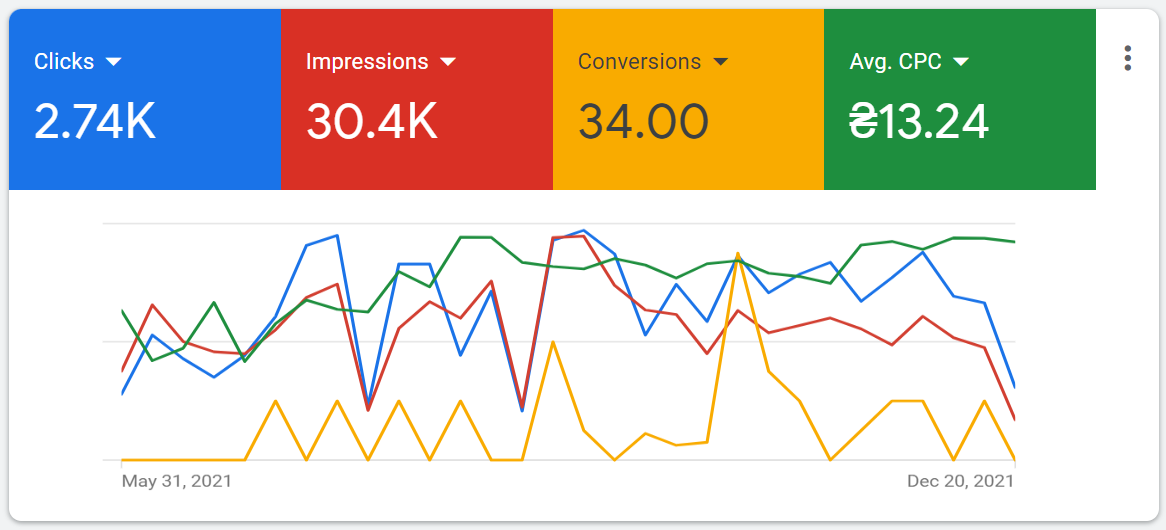 We monitor the effectivness of advertising campaigns on a daily basis, adjusting bids to the market, reducing the client's advertising costs by cleaning negative search terms.
If you are interested in promoting your business with Google Ads, social media ads, SEO, LinkedIn, and Emailing, please write or call us using Contacts.