Looksize
Ukraine
About company
Looksize is a Ukrainian company that has introduced its vision to the world of fashion by creating a unique solution - an online fitting room for online stores. The purpose of this feature is to increase sales and reduce the number of clothes returns due to the wrong size.
Services provided
Be first, Be visible!
When your customers are looking for your products or services, do not be hard to find. Be visible with Google Ads!
more
Boost Your Brand!
Facebook is an ideal tool for leadgeneration but it's also the most effective way to increase your brand awareness worldwide!
more
Project details
Virtual Fitting Room for the eCommerce Fashion Stores
We decided to use Facebook Ads as the main channel for this online shop. By demonstrating the benefits of online fitting, we won't only be able to attract new customers but also improve the recognition of the Looksize brand.

In the beginning, we added a Facebook Pixel on the Looksize website to track user actions and divided the ad into two categories by country: Ukraine and Canada. Therefore, it was also necessary to divide conversion settings into two segments: the Ukrainian audience from Ukraine and the English-speaking audience from Canada. This division allowed retargeting companies to scale as accurately as possible to both countries, which are independent of each other.

Also, to increase conversions on the site, we made changes that simplified the registration process.
When we set up customer action tracking on the website, we moved to strategy development and started advertising.

In this case, Looksize already had a base of potential customers, but we also wanted to expand its business and attract new customers. One advertising campaign we launched as a retargeting to the whole customer base, which we previously downloaded as a Customer list. In addition to direct retargeting, we created a Look-a-Like audience from a database and used it to launch a different advertising campaign with another creative.

To set up and run a cold advertisement, we separated the audience by age, interests, and specific daily budget. The advertising funnel looked like this:

1. The advertising campaign gathered potential customers who have their online store;
2. Looksize's customer database was uploaded to Facebook and used to launch a retargeting campaign;
3. An advertising campaign set up for the updated Look-a-Like audience from the database;
4. We added a separate retargeting for events and tracked them on the website using Facebook Pixel.

The next step was to review the advertising to complete further adjustments and scaling by the key indicators of Facebook Ads (coverage, impressions, CPC, frequency, etc.). The Facebook Ads were performing well, that's why we decided to expand the search audience for new customers and run the Google Ads.

After identifying the company's goals, we started advertising campaigns aimed at Ukrainian and Canadian consumers. We collected individual semantic cores, divided them according to preferences, wrote unique text ads, and established advertising campaigns. Each was targeted to maximize traffic and had a maximize clicks betting strategy.

The Ukrainian market turned out to be slight, so we didn't set a price limit (to cover the whole market), which allowed us to cover 72% of the Ukrainian market.



The graph shows the effectiveness of our advertising campaign for three months. For an advertising cost of approximately UAH 2,000, we received 415 clicks with an average cost-per-click of UAH 5.48.

At the same time, search advertising in Canada had an unclearly defined market, and we needed to delineate the boundaries. The maximum bid limit is 4.5 CAD. Within the existing budget, we covered 82% of the market.

Analyzing the performance of all advertising campaigns, we had to amend the website repeatedly to increase registrations. Currently, we have several connections per week and regular events that correspond to Facebook Ads and Google Ads. We accumulate a database of already connected customers, create Look-a-Like advertising campaigns and ulterior scale advertising, and create new funnels for their launch.
Our cooperation with Webugol officially kicked off on 1 December 2021.
A comprehensive technical audit of the website has been successfully conducted, with a keen focus on enhancing the overall user experience and performance. This meticulous process enabled the identification and rectification of all existing errors.
The semantic core has been successfully compiled with a focus on our priority keyword "virtual fitting room". Additionally, a comprehensive analysis of the existing pages has been carried out.
With a clear focus on their core brand, Looksize, the team decided to develop a detailed content strategy. This plan encompassed the creation of engaging and relevant content meticulously tailored to resonate with their target audience. Additionally, they took on the project of optimizing existing pages. By enhancing SEO, improving webpage load times, and ensuring a user-friendly interface, they aimed to boost the overall user experience on the Looksize website and improve the brand's online visibility.
In addition to our existing strategies, a comprehensive plan for link building has been formulated as part of our ongoing efforts to improve the visibility of Looksize. This plan includes tactics such as reaching out to related businesses for guest blogging opportunities, submitting our website to reputable online directories, and consistently producing high-quality content that others are likely to link to.
Our results have exceeded expectations, demonstrating the effectiveness of our strategic initiatives and the tremendous effort put in by our team. The success we've achieved has positioned us well for future growth and to continue delivering excellent service to our customers.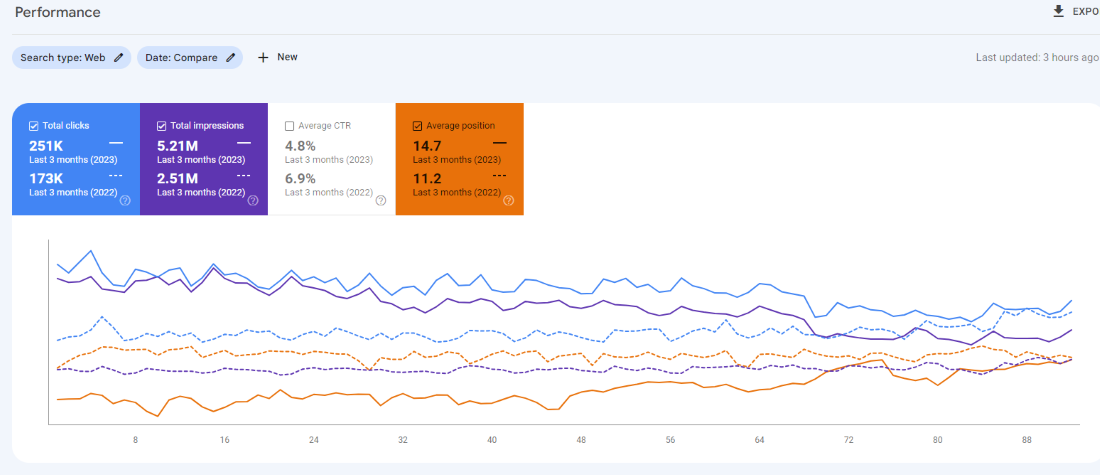 Organic traffic to the site has grown significantly + by 45%, the number of impressions has increased +107 %. The domain site rating increased from 0 to 35:

The site began to take top positions in key queries: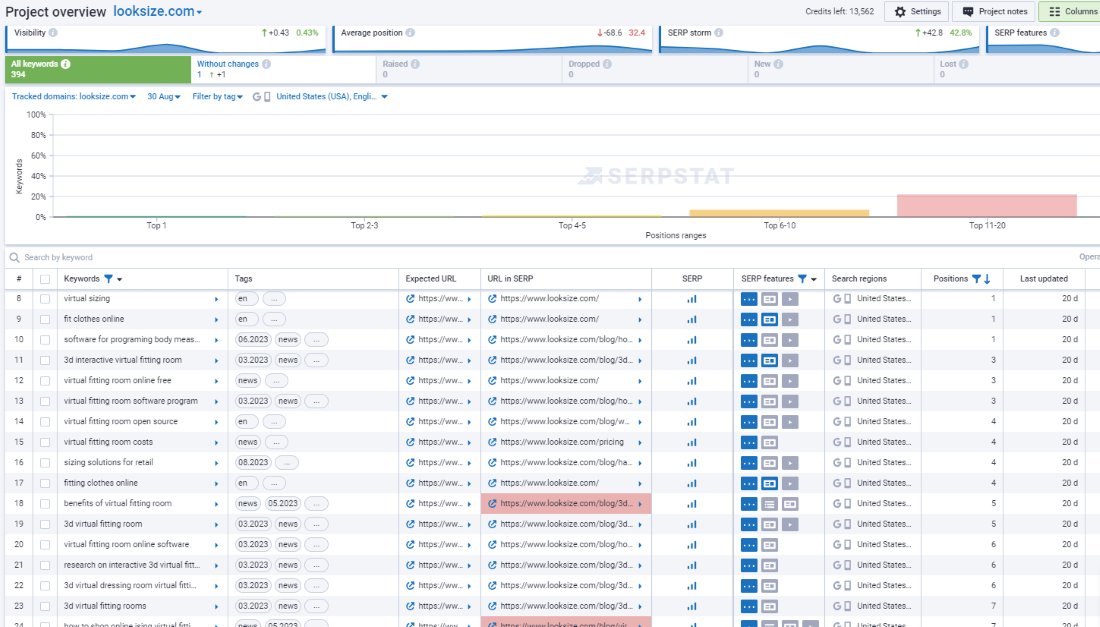 When it comes to SEO services of exceptional quality, look no further than Webugol. Don't miss out on this opportunity to enhance your online visibility and drive more traffic to your site. Get in touch with Webugol today!