Unique Blinds
Canada
About company
Unique Blinds is a company from Toronto, Canada, that designs and installs designer products such as Blinds, Shades, and Drapes. The company has a unique approach to each client based on their wishes.
Services provided
Be first, Be visible!
When your customers are looking for your products or services, do not be hard to find. Be visible with Google Ads!
more
Boost Your Brand!
Facebook is an ideal tool for leadgeneration but it's also the most effective way to increase your brand awareness worldwide!
more
Project details
Your Dream Space Starts Here
Unique Blinds involved us in business analysis and advertising campaigns to increase their sales.

After analyzing the market, we caught several profitable options for developing effective advertising campaigns. Since there were no other campaigns before, we decided to start with Facebook promotion to get the first results and, based on them, to scale existing advertising and decide if it is worth additionally using Google advertising.

In creating a strategy, it was necessary to determine the audience interested in designing automatic drapes, blinds, etc., select interests, produce an engaging video creative, and limit advertising to a specific geolocation. After getting approval and budget estimation, we launched the Unique Blinds advertising campaign.

The next step was the ongoing analysis of advertising and monitoring of the Facebook Ads indicators, which is useful for understanding the targeted audience, how many potential customers watch our advertising video, and many other indicators for complete analysis. During the first few weeks of testing, we arranged to stop some campaigns due to insufficient coverage and low clickability while spending high costs. We found out which campaigns are better to boost with a budget to get more audience. Because Facebook determines and focuses on the best promotions and ads, every day we focus on filtering the ad campaigns to target the audience and optimize the budgets.
Our social media specialist created a commercial to make creative Facebook ads campaign. Video advertising is a fantastic tool because of how much it attracts people and can be spread on the Internet in a matter of days. 


We installed Pixel to track conversions and actions on Unique Blinds, which gathers audiences and divides them into categories. We received data on the number of customers who went to the website's main page, browsed the website on various internal pages, and clicked on the phone number. This information allowed us to launch the Retarget campaign for the most targeted and interested audience, as well as the LAL (Look-a-like) campaign for the audience that is most similar to potential customers.

It has paid off. Within a month, we received 12 potential customers who called Unique Blinds for services. The price for one client of such an advertising campaign was about $75 Canadian dollars.



Because Facebook Pixel does not always track all actions on the site, and filling out the form located on the site could not be tracked as an action, it was decided to transfer advertising to Lidform. During the advertising campaign, we found the target audience, saw what this audience was most interested in, and used this data to restart the ad. At the moment, the new advertising campaign on Lidform has already brought 29 leads (4 in the last 2 days of the previous month and 25 already this year), who left their applications, which we can see in the Facebook Leads Center. And this is not the end of the month. On average, new ice is added 1-2 times a day.

The new campaign has already spent 950 Canadian dollars, and the price per customer is not 75 Canadian dollars, but more than twice 32 Canadian dollars.
We continue to monitor the development of advertising campaigns for their more accurate optimization to provide the best outcome of price, quantity, and quality.
After launching, configuring correctly, and successfully operating with Facebook Ads, we started launching Google Ads. We began by dividing the services into specific groups: blinds, shades, and drapes, and collected the appropriate semantic cores for each service. Divided keywords by intent and wrote unique text ads.
Each campaign was launched to find new leads and had a well-defined budget and display area. We've also set a maximum bid limit for each ad campaign.
After analyzing the work of advertising campaigns for the first month, we found that this market is quite large. Our budget wasn't sufficient for this market size, so we set the entire budget just for the blinds advertising campaign. We were gradually increasing the maximum cost-per-click (CPC) bid. To date, this strategy has already conceded its first results in conversions.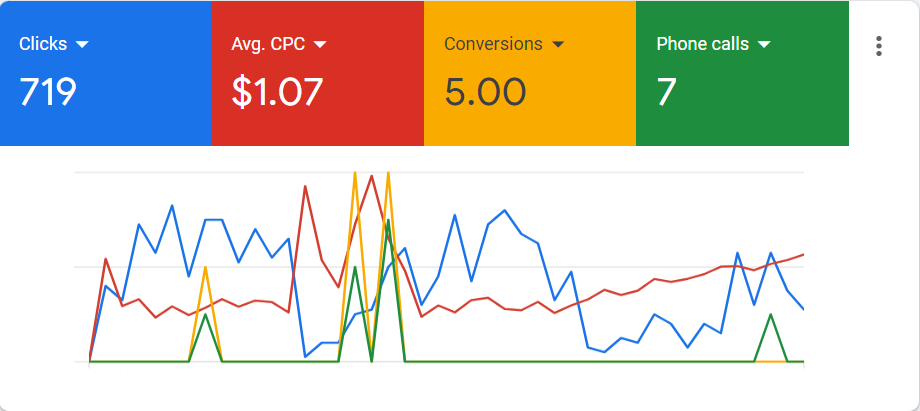 We monitor the performance of this advertising campaign every day, eliminating the negative keywords in order to achieve maximum results within our budget.
If you are interested in promoting your business with Google Ads, social media ads, SEO,, and Emailing, please write or call us using Contacts form.