01 Apr
Success with Google Adwords
Long-read, take your coffee
We recommend you to take your coffee and read the current article in a relaxed atmosphere. We guarantee that you will not be familiar with some of the content and that after reading the article you will be able to better understand and serve Google Ads better.
What is Google Adwords?
Google AdWords (Google Ads) is an important tool for any online advertising marketing strategy. With Google AdWords, you can place ads on the Google search network to share your brand or product with a large audience of potential customers.
AdWords is a rather paid advertising platform that is constantly changing. In addition, many marketers and business owners do not have time to spend all day studying the ins and outs of AdWords. This makes it difficult for many companies to succeed in AdWords. But at the same time, AdWords is an effective way to drive new traffic or leads to your business. It may include other affiliate channels: YouTube or the Google Display Network.
There is no big secret to success in Google AdWords. Rather, success largely depends on understanding a few key principles and continuing to work hard to optimize and improve your account over time.
History of Google Ads
Let's start with a journey through time to the first internet advertising created in 1993. It took 5 years from the first internet advertising to the first keyword auctions, and it was only in October 2000 that Google started with Google Adwords (today Google Ads). Since then, millions of customers have asked themselves one question, namely how to achieve maximum success for their advertising goals with the lowest possible expense. Of course, we are also concerned with this question just mentioned and for this reason, we are dealing with this topic in this blog post. Our ultimate goal is to start successful campaigns for our customers at the minimum price. However, before we can explain the answer to this relevant question, we must first explain some key data about Google Ads. You'll get a sense of which keyword types are right for your business and ultimately get an idea of how you can reduce the cost of your campaigns.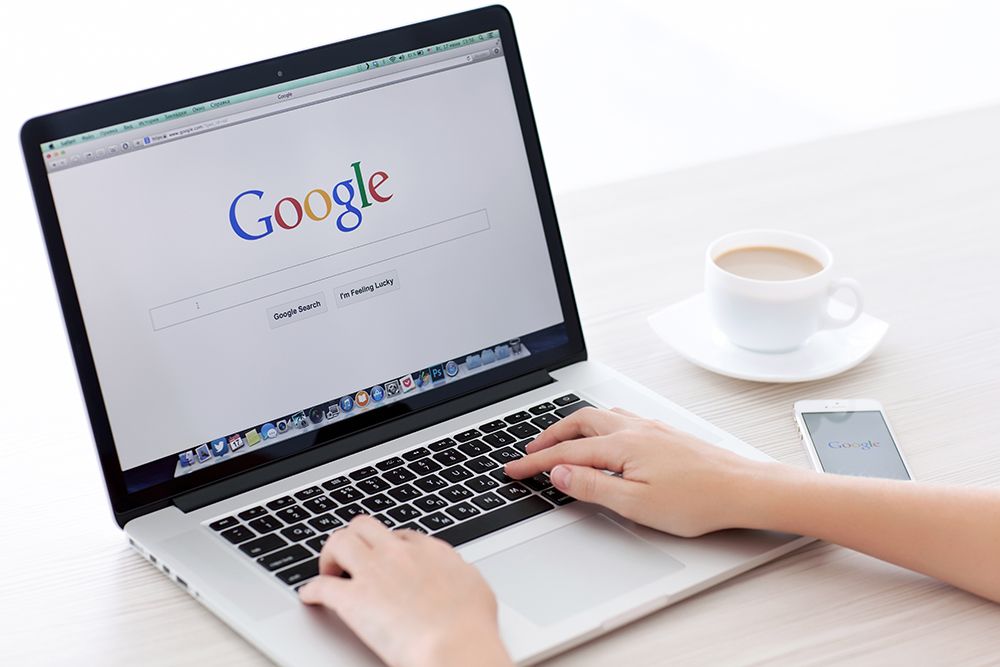 What is online advertising?
Any type of advertising that is distributed via the Internet is online advertising. What is different from TV or print advertising is that you can carry out an exact measurement of success, but you can also address specific customers.
Because online advertising brings more advantages than the classic types of advertising, the trend and perception of online advertising are constantly increasing.
To understand online advertising, you must first find out how people search online. In the current example, we are assuming that your are trying to get multiple visitors to your website with the online advertising.
The following options are therefore possible:
Online ads (Google Ads, Facebook Ads, YouTube advertising, etc.);
Use online business aggregators;
Social media;
Blogs;
Forums;
Press portals;
Google Maps.
How to launch Google Adwords
In order to start a successful Google Adwords search campaign, you should definitely heed the following points:
You should create at least three ads per ad group and constantly optimize delivery. Because each ad group contains three or more ads, the most relevant ad will be selected for the best search query. This means that the ad that has the best conversion based on experience is always displayed.
Google Ads offers various extensions for your ads. Use various ad extensions so that your ad appears bigger and your users receive more information about your company or your products/services before they even click on the ad. This increases interest and increases the chance that your ad will be noticed and a user will come to your website.
Only those who stay on the top will win. For this reason, you should regularly monitor the performance of your ads and consider what improvements can be made.
You get an effective ad by first setting the ad groups, text, and keywords. Always remember that for the best results you need at least two ad groups with at least two to five ads each.
You should always ensure a certain structure here because over time your Google Ads account will have more ads and if you don't ensure a proper structure, analysis and changes will become more and more difficult.
When writing an ad, make sure it is relevant to potential customers. In each ad group, you should test two to three variations to get a comparison and the specified keywords should be included in the ad text.
Set yourself goals and deadlines and constantly evaluate your data. Your Google Ads dashboard should be checked constantly because there you will receive all relevant information and you can quickly get an overview of any need for action. Webugol team provides daily analysis and ads improvements to guarantee the most profitable results.
Do Google Ads worth the cost?
We agree that Google Ads is a great opportunity for advertisers. Not everyone has good rankings for their desired keywords and therefore many customers search for a suitable marketing agency. Of course, influencing the organic search is more difficult than getting the coveted places. Statistics prove that most users click on the first 3 posts and the click-through rate on the Google sub-pages drops in single-digit percentages.
Google Ads is not a free feature and therefore costs real money. The more competitors your market has, the higher will be the cost per click (CPC), but it's up to you. Webugol cares about how much you need to pay for each click on your Google Ads. That's why we manage your bids regularly to fit the market volume and get maximum conversion available each day. Day-to-day optimizations and bids adjustments allow us to get 200+% growth in just 3-6 months. That means that your returns on marketing investments will be higher than any of your competitors can even imagine!
Many startup companies are trying to build niche websites and launch ads by themselves. However, the representative analysis costs a lot of time and also requires certain knowledge. You need to see the market potential and use it in the right way. This is probably one of the reasons why many companies outsource Google Ads.
Google Ads - yes or no? Yes, you can definitely be successful with Google Ads. We stand by this statement, but on the other hand, you have to be realistic. Without long-term planning, you will always invest more money than you earn. Creating an ad is not the problem, but rather placing more lucrative and profitable Google Ads. Sometimes we refuse some potential customers who want to pay for the Google Ads campaign because we know in advance that you will not get profit from it.
There are so many factors to consider that there will never be a one-size-fits-all answer. Depending on your goal, depending on your budget, depending on where you see your company in 5 years, these questions determine if your Google Adwords will be successful or not.
At the same time, we would also like to say that we have mentioned a very small part about Google Ads. There are entire books on this subject. What we can recommend with a clear conscience is free market analysis and evaluation by the Webugol agency. It will give you many relevant tips and will help you to save your costs + show you other good options that could lead you to the desired success. Just know - every company that offers a good solution and creates benefits can become a successful company with Google advertising!