Valhalla Vitality
United States
About company
Valhalla Vitality is a mobile concierge wellness center dedicated to giving patients convenient access to health-promoting therapies that improve well-being. Based out of Far Rockaway, Queens, in New York City, Erica Malloy-Blake, PMH-NP, and the wellness team make house calls to those living in and around the surrounding area.
Services provided
Be first, Be visible!
When your customers are looking for your products or services, do not be hard to find. Be visible with Google Ads!
more
Project details
The team at Valhalla Vitality turned to the marketing agency WebUgol for help in setting up effective advertising campaigns on the Google search network.
While checking the website, we found minor errors, correcting which can achieve better website conversion. When successfully adjusting them, we assembled a new semantic core, divided the keywords into groups, and wrote unique text ads. As a result, our advertising campaigns are launched in search of new potential customers and have a clearly defined territory and budget.
Also, we created Google Analytics and Tag Manager for Valhalla Vitality and linked it to a Google Ads account. Conversions will not be tracked because the website includes online chats and forms that can not be followed. That's why we need constantly check whether the chats and form filling reached new customers and what quality.
Over the entire campaign period, we were able to reduce the cost per click to $1.63, spending $2,120.

We continue working with the Valhalla Vitality and are ready to scale the campaigns, testing new hypotheses to increase the customer's bottom line. 

Want to feel the difference? Call us, and we will help you to achieve striking results! 


Valhalla Vitality  SEO
Our cooperation with Webugol officially commenced on 1 July 2022.
Following a thorough technical audit of the Valhalla Vitality site all identified errors have been successfully rectified. Our meticulous review process focused on streamlining site functionality, optimizing loading speed, and improving overall user experience.
The semantic core has been meticulously compiled, and concurrently, a comprehensive analysis of the existing pages has been conducted.
After careful deliberation, the team crafted a strategic content plan that would prioritize the use of the keywords. This plan outlines the creation of regular blog posts, social media updates, and engaging newsletters, all centered around this theme.
Simultaneously, we developed a plan to optimize existing website pages. This dual-pronged approach of fresh content creation and existing page optimization ensures a comprehensive digital marketing strategy for Valhalla Vitality.
In addition to our established strategies, we have drawn up a comprehensive plan for link-building to further enhance Valhalla Vitality's online presence. This process involves identifying reputable websites within our niche for possible link exchanges, guest posting opportunities, and collaborations.
The primary goal of this link-building strategy is to drive more organic traffic to our website and improve our ranking on search engine result pages (SERPs).
This year has been of remarkable progress and success.

Organic traffic to the site has grown significantly + 127%, the number of impressions has increased + 192%

Organic keywords have grown + 1 130 organic keywords and + 246 organic pages. The site began to occupy top positions for key queries - 134 keywords occupy the TOP-10 positions in search results.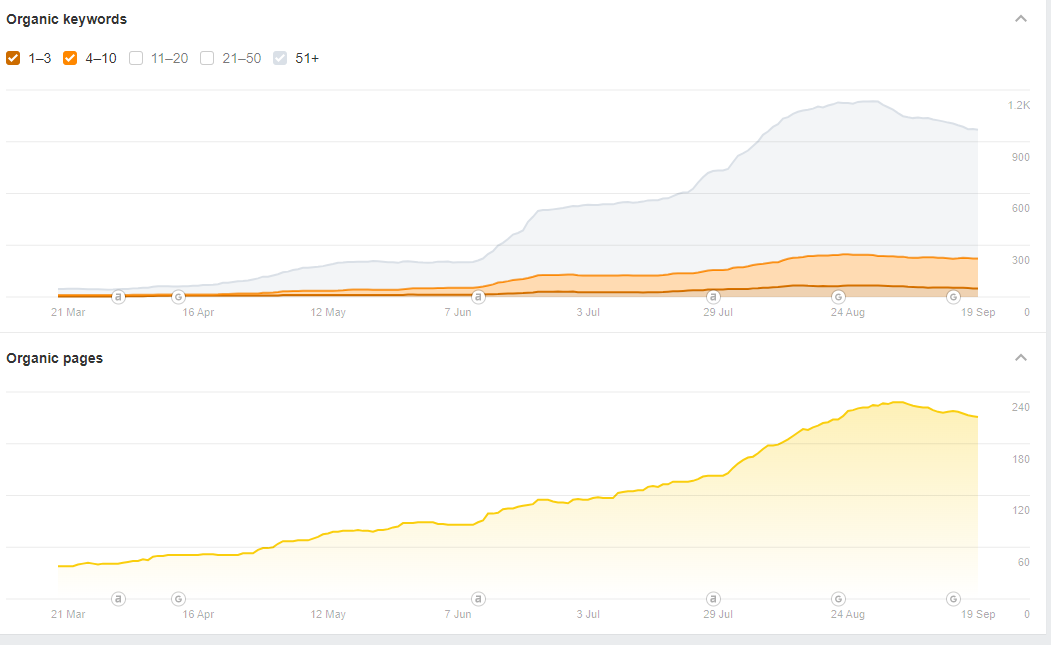 The domain site rating increased from 0 to 31

For excellent and trustworthy SEO services, don't hesitate to get in touch with Webugol.
Contact Webugol today for an SEO service that guarantees results.